Calamba Medical Center adds a new building to their State-of-the-art hospital
Lifetrack's partner, Calamba Medical Center, adds a new building to their state-of-the-art hospital in Calamba, Laguna, last October 16. The Lifetrack Management team, composed of Atty. March Duran-Schulze, Carl Nicholas Ng, and Reggie Vallente, joins the CMC team, led by Dr. Jose Juliano, for the the blessing of the new structure.
Calamba Medical Center (CMC), Laguna's premiere Medical Center, is a modern 122-bed tertiary hospital fully equipped to treat most major illnesses and injuries. Open 24 hours a day, seven days a week, CMC specializes in various fields such as internal medicine, industrial medicine, general surgery, pediatrics, opthalmology, physical therapy & rehabilitation, otorhinolaryngology, and many more. CMC also offers diagnostic services, including digital x-ray, laboratory, ultrasound, pulmonary function test, cardiovascular (2D Echo), holter monitoring, and ambulatory BP.
You may check out their website at http://cmc.ph/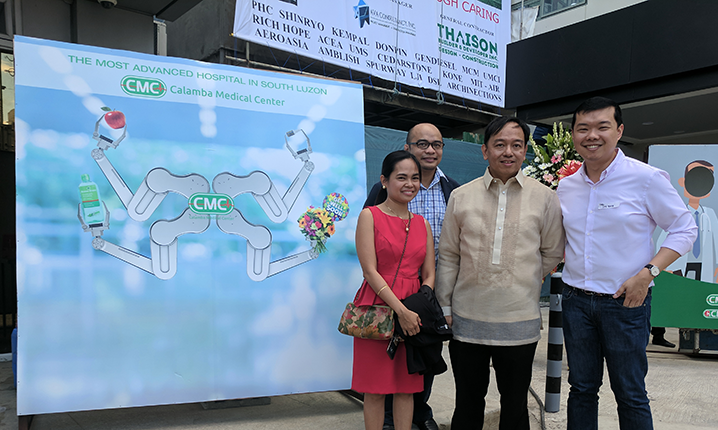 Lifetrack Medical Systems is led by a team of healthcare and technology veterans with expertise in developed and emerging markets. Our product, LifeSys™, is an integrated 4th Gen RIS/PACS that enables a 100% digital radiology workflow for optimal productivity, with integration to all imaging devices and hospital software. With, lightning-fast, secure transmission of scans on our cloud-based software and native browser viewer engineered from the ground up, it is able to deliver real-time reviews to patients, cutting down on waiting times and improving both quality of care and utilization.