Lifetrack wins in Philippine Best Life Sciences/Med Tech Category of the Asean Rice Bowl Startup Awards 2017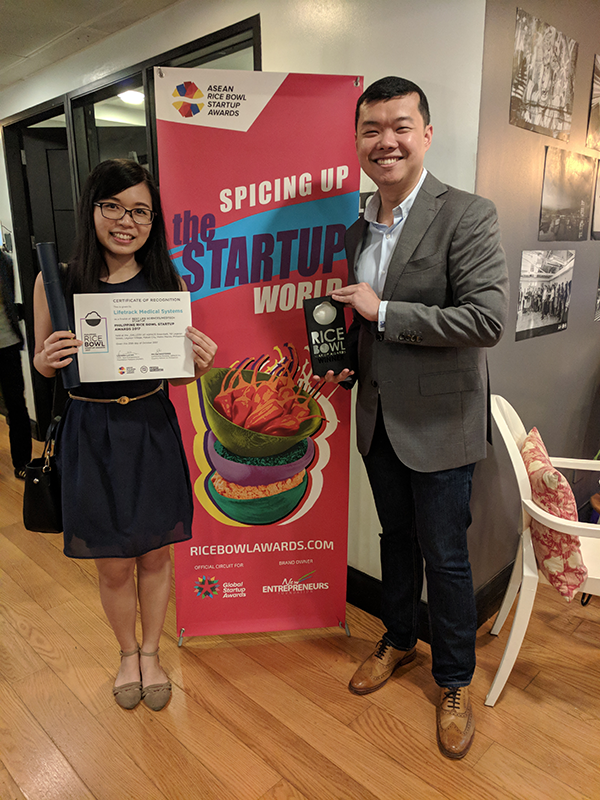 Lifetrack wins Best Life Sciences/Med Tech Category of the Asean Rice Bowl Startup Awards 2017 Philippine circuit, an event organized by New Entrepreneurs Foundation in collaboration with ASPACE MANILA last October 25, 2017.
Lifetrack, together with the winners of the other categories in the Philippine circuit, will now participate in the ASEAN Rice Bowl Startup Awards 2017, which will take place in Kuala Lumpur, Malaysia this December.
Check out this link for more details: http://bit.ly/PHRiceBowl2017
Lifetrack will compete in this regional circuit with winners from other ASEAN countries for the Life Sciences/Med Tech category.
The ASEAN Rice Bowl Startup Awards is a program that celebrates the spirit of innovation and entrepreneurship in the Southeast Asian startup ecosystem. (ricebowlawards.com)
New Entrepreneurs Foundation (mNEF) is a non-profit organization that focuses on creating and developing sustainable entrepreneurs via strategic developmental programs. (mynef.com)
Lifetrack Medical Systems is led by a team of healthcare and technology veterans with expertise in developed and emerging markets. Our product, LifeSys™, is an integrated 4th Gen RIS/PACS that enables a 100% digital radiology workflow for optimal productivity, with integration to all imaging devices and hospital software. With, lightning-fast, secure transmission of scans on our cloud-based software and native browser viewer engineered from the ground up, it is able to deliver real-time reviews to patients, cutting down on waiting times and improving both quality of care and utilization.