A radiologist's dream workstation at home
By:Jerik Yumol MD, DPBR, FPCR, FCTMRISP
The pandemic has accelerated digital transformation for different industries. Medical institutions have started offering telemedicine consultations. Much closer to home, we've been hearing about teleradiology.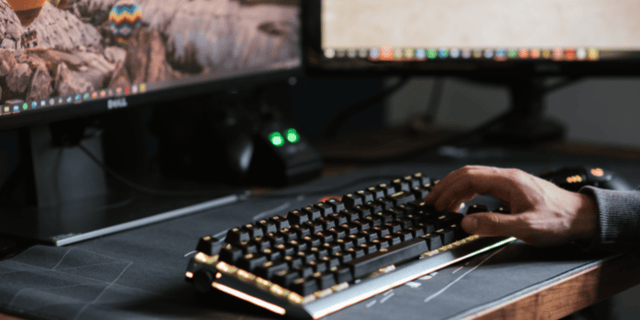 Teleradiology has been a convenient way for me to read studies as I work from the comfort of my home. It has also helped make my work faster and efficient—I no longer need to be stuck in traffic as I travel to different medical institutions. These benefits have proven to be extremely helpful now more than ever.
In the years that I have been doing teleradiology, I've tried and tested different setups for my home workstation. I'd like to share my hardware and software wishlist to radiologists out there who are looking to build their own workstations or upgrade the ones that they have.
The anatomy of my ideal teleradiology workstation
Hardware
It's about ergonomics and looking for tools that will allow you to efficiently do your work. With the right software, your equipment doesn't always have to be the top-of-the-line model.
You also have to invest in things that radiologists often overlook — connectivity and lighting. A reliable internet connection is a must. If you're living solo, I recommend at least 25 MBPS internet speed to quickly interpret radiologic images online.
With lighting, a poorly-lit area can lead to eye-strain and headaches. Likewise, too much glare also causes the same thing. Both can lead to fatigue and stress-related symptoms, affecting the quality of your output and productivity level. Natural light is optimal but if this is a challenge, an adjustable lamp should help. Just make sure that it is positioned correctly (depends on your preference) and it is not distracting your field of view.
Below is my complete recommended hardware list.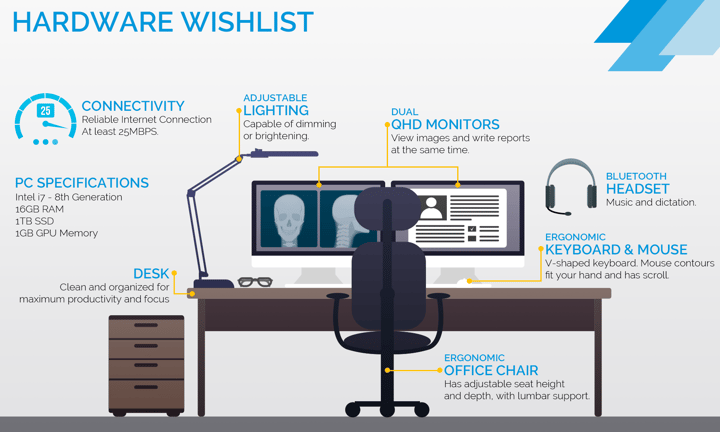 Software
Now that we have the tools and equipment listed down, let's talk about software. There are legacy software platforms that work best for an on-premise set-up. However, there is newer software that is more flexible and suited for offsite readings. Here are the key features to consider.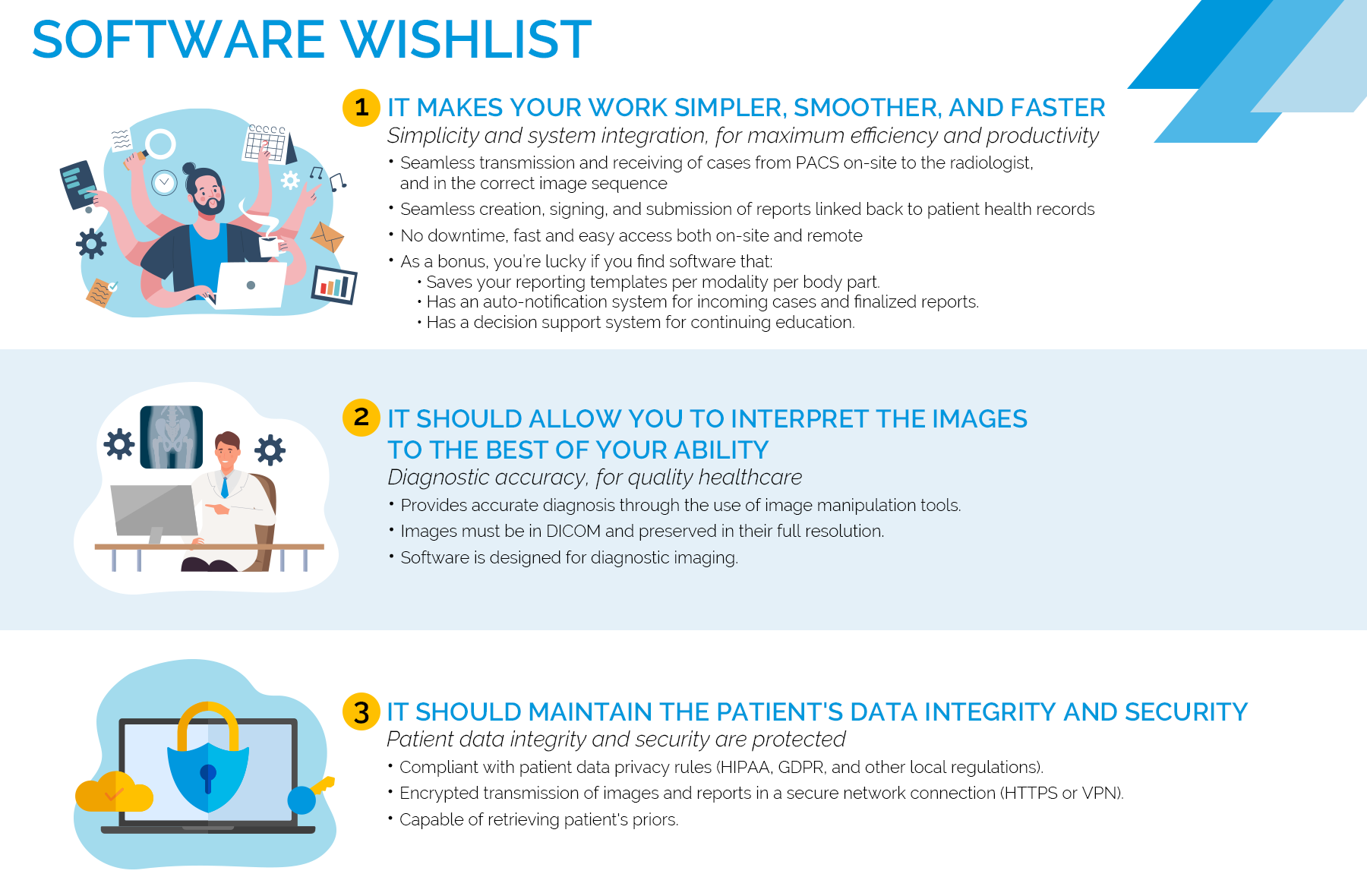 Shifting to teleradiology and building your workstation doesn't have to be hard or expensive. I believe this is something that you can continuously build over time. Good hardware helps with the practical aspects of working offsite but it's always best to match it with software that allows you to read medical-grade images at home in an efficient manner. I do hope that my wishlist is helpful to you. Best of luck!
Interested in LifeSys for teleradiology? Learn more about the product here.
About the Author:
Jerik Yumol MD, DPBR, FPCR, FCTMRISP has been practicing teleradiology for 3 years. He graduated with a Bachelor of Science degree in Biology from the University of the Philippines (Baguio) and acquired his diploma in medicine from the Pamantasan ng Lungsod ng Maynila. He took his residency training program in Quezon City General Hospital and had his specialized training in CT-MRI and musculoskeletal imaging at Saint Luke's Medical Center. At present, he is finishing his master's degree in Hospital Administration from the University of Santo Tomas.
About Lifetrack:
Lifetrack Medical Systems is a health-tech company focused on making medical imaging more affordable, accessible, and efficient. Lifetrack's mission is to build simple, elegant, powerful, and intuitive software for the entire healthcare ecosystem.
LifeSys, our flagship RIS PACS solution, is a next-generation radiology solution that allows you to work using your workflow, when and where you need it while providing significant cost savings.